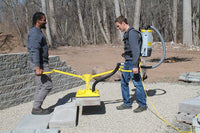 The Backpack 2-Man Option!
An electric (cord included) versatile application for less physical strain and no compressor needed option.
Weight: 45 lbs.
Benefits:

2-Man Handle
Electric (cord included)
Versatile Application - No Physical Strain & No Compressor Needed
Up to 350 Pound Lifting Capacity - Weight limits vary pending pad size & porosity of products.
Includes:

Vac Max E (backpack vacuum)
50' Power Cord
Quick-E-Ergo XL
Vacuum Hose
Picks:

Granite
Bluestone
Wet Cast
Natural Stone
Manufactured Pavers
Note: Pads not included 

Additional Accessories (not included):
VME Caddy

Requires 9.5 Amps to run the motor