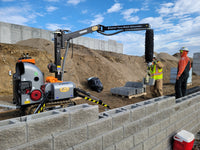 Vacu-Mobile Allrounder Demo For Sale
Call or Email for Price
SKU: PT-55102ALL2 Optimas Hardscape
Demo Price: $34,500
Hours on Meter: 29
Please call for more details
Install 2,400 - 4,000 sq. ft. in ONE Day!
Suction - Tube Lifters

BENEFITS:

Moves pavers, slabs & even wall blocks!
Easy to use
Less physical strain
Self contained unit - requires no other machinery
MACHINE SPECIFICATIONS:
Folded: 86" L x 42" W x 83" H
Unfolded: 102" L x 42" W x 104" H
Arm Length: 118"
Machine Dimensions: 99" L x 37" W x 99" H
Machine Weight: 2300 lbs.
Using its integrated vacuum hose lifting technology, the Allrounder performs weightless, exact and economical paver laying for concrete and natural stone elements of up to 308 lbs. Suitable for Granite, Bluestone, Wet Cast, Natural Stone and Dry Cast!
The compact design can be transported by trailer.
The chassis with two rubber chains enables the Vacu-Mobil Allrounder to maneuver in difficult terrain. A folding boom permits simple operation in a cramped environment e.g. against house walls or tree rows. The device can be stabilized easily using the four hydraulically-controllable support feet. The very compact dimensions of the device means that no entrance is too narrow. The mast can be folded in (requires a single person) in only a few minutes. Quick and easy release of the suction plates using the quick release plate.