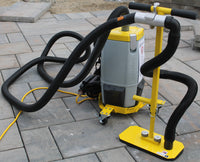 High flow electric vacuum for lifting pavers/slabs

Picks Manufactured Pavers, Granite, Bluestone, Wet Cast & Natural Stone

Can be worn as backpack or rolled around in Wheeled Caddy
Incl. Electric Vacuum, Adj. T-Handle w/ 6" x 6" & 10" x 10" pads, 4' & 5' Hoses, HF Vac relief valve
Wheeled Caddy Accessory with 15' of hose is optional
Weight: 32 lbs.