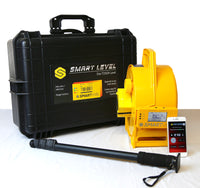 Smart Level with Bluetooth includes Carrying Case and Monopod
$995.00
SKU: SL-200-10-1-1 Smart Leveler
Smart Level with Bluetooth includes: Complete Unit with Monopod and Case
Is exactly the same in all capabilities as the U-Level
Works fully with Smart Level or U-Level app as well
More than just a regular level
Powerful industrial computer that learns and adapts to its uses and environments
Common sense principles combined with blue-tooth digital display capabilities that work with your smartphone and are extremely user friendly
Data Exporting: The Smart Level tool stores and emails accurate data to an excel sheet which you can export easily.
Flexible Readings: The Smart Level has flexible readings in Imperial, Fractions, Metric, and Engineering (above sea level).
Range Function: The Smart Level allows setting acceptable tolerance with high, level, low lights and displayed via Bluetooth.
Set Zero Anywhere: The Smart Level allows users to set zero to any location with the push of a button and all readings will reference this point.
Use in the Dark: The Smart Level has a back-light that makes it extremely easy to use in dark conditions.
Virtually Maintenance Free: Most altimeters require factory recharging and calibration within 2 years. Not so with the Smart Level; when used as recommended the Smart Level is virtually maintenance free.