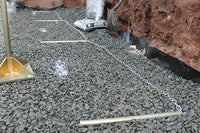 Prepares a perfectly level base quickly and efficiently - each and every time.
No comparison to the accuracy and ease of installation
Eliminates carpal tunnel & tennis elbow that could be attributed to old install procedures
Four screed pipes are connected to each other by 5' lengths of chain to keeps them the optimal distance apart for using the Quick-E-Screeder Package or the 6' Quick-E-Straightedge.
The chain is used as an offset or layout guide for the wall being built
15' long
Weight: 11.6 lbs.