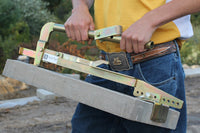 Pick up mulitple sized slabs with a less than 2 sec. adjustment time
Can be used by hand, with the Quick-E-Ergo Assist or with an excavator (sold separately)
Helps alleviate back and hand strain
Unique ratching system can accommodate most slabs, up to 24" wide.
Added loop allows for use with loader or excavator to swimg slabs.
Holds up to 200 lbs.
Weight: 11 lbs.