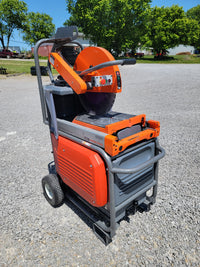 iQ 1550 Dust Capturing 21.5" Masonry Saw- Pre-Order NOW!
Call or Email for Price
SKU: iQ-1550 iQ Power Tools
Taking Pre-Orders NOW! Does not ship until January 2024.
Introducing the Supreme Masonry Saw at 21.5", your ultimate dry cutting solution. Say goodbye to the hassle of water and experience unparalleled mobility. With its innovative built-in dust management system, this saw is tailored for professional contractors, designed to conquer the challenges of wet cutting while elevating your efficiency and profitability. Transform your workspace into a pristine, dust-free environment with the Supreme Masonry Saw.
Integrated Dust-Vacuum captures dust during operation
Maximum cutting depth of 8" & cutting length of 16"
Automatic filtration cleaning system, cleaning and maintenance is easy
Center lift point for easy lift into a job site
High-floatation tires for easy ground transportation
Soft-Start Technology controls the power ramp-up without the spoke and the automatic filter cleaning system
Saw Dimensions: 32" wide x 67" high x 51" length
Saw Weight: 380 LBS
Price: $12,999
Specifications

Saw Motor: 230V 4000 WATT
Vacuum Motor: 3000 WATT
Cutting Capacity: 20"
Filtration: 3-Stage HEPA
Cut Height: 8"
Dust Capacity: 75 LBS
Total Weight: 380 LBS
Dimensions: 32" W X 67"H X 51" Length
Portability: Wheels, Forklift, Crane Mount
Product Literature

Download brochure for additional support.
Video
iQ1550 Video(s) located next to product images above.