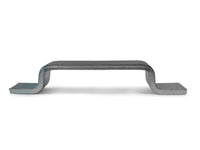 Flat Dual Mat Link Connector for Blue Gator Mats
$8.00
SKU: DO-FDML Blue Gator Mats
Blue Gator Flat Dual Mat Link Connecters easily help you instantly create a portable roadway or working platform for as long as you need it.
They are ideal for usage when working on harsh sites or when the job requires several days to complete.
The Connectors are constructed with a galvanized coating to protect them from rusting, and to make them easier to locate on a jobsite.
Made of rugged round hot rolled steel.
Size: 7" Long, 3/4 " Wide, 1-1/4" High
Weight: 8 oz.