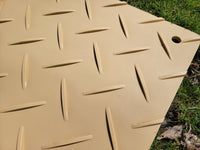 Blue Gator 4' x 8' Tan Mat (Cleats One Side, V-Pattern On Other)- PLEASE CALL for LTL Freight Shipping
$250.00
SKU: DO-TAN48 Blue Gator Mats
Color = Tan
Size = 4' x 8'
Style =  Cleats One Side, V-Pattern On Other
Infused with rubber for superior grip & flex (optional)
Lightweight and easy to transport
Easy to install on uneven surfaces
Reduce cleanup time
Protect vegetation and plants
Prevent rutting and runoff
Eliminate the need for gravel
Include hand holes for easy placement & storage
Rugged - withstands up to 60 tons!
Flexible - bends but won't break
Waterproof - won't rot, crack, or peel
Eco-Friendly - 100% recyclable High-Density Polyethylene
Affordable - an excellent return on investment!
Deep "v" pattern on one side and diamond pattern on the back
Mats are warranted against, but not limited to: cracking, breaking, splintering and chipping.
Weight = 80 lbs.